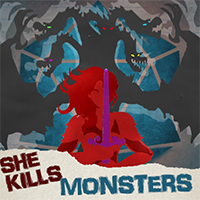 She Kills Monsters: Virtual Realms
Join us for a comedic romp into the world of fantasy role-playing games with SHE KILLS MONSTERS: VIRTUAL REALMS! This high-octane dramatic comedy laden with homicidal fairies, nasty ogres and 90s pop culture is a heart-pounding homage to the geek and warrior within us all. Acclaimed playwright Qui Nguyen has created this version specifically for online performances.
Event details
Date
Description
Viewing links are sold per household. If you are buying for more than one household, please add the second email address in the order notes on the cart page for a separate link to be sent 24 hours before the viewing period begins.
,
for